Avoid shipping costs
NetScanTools Pro can be purchased as a Download. This eliminates waiting for the CD to arrive and the associated shipping costs. You must have a broadband connection and you will need to make a backup of the downloaded file.



Shipping Rates - Last Review: November 21, 2011
We prefer to ship via UPS. Shipping rates are vary by destination. Please contact us for rate to your location.
We can also ship by FEDEX and US Postal Service.
Please contact us for rates or further information.
All customs duties, taxes, VAT and shipping costs are the responsibility of the purchaser.


NetScanTools Pro CD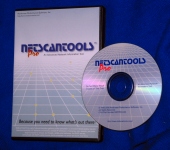 When you order NetScanTools Pro on CDROM you receive the CD and a soft plastic case.
Return and Exchange Policy



Our policy is here.