About the Download
The NetScanTools Pro Download eliminates the CD and the associated shipping costs. We recommend a broadband connection and you must make a backup of the downloaded file onto permanent media like a CDR. The file will be available for up to 24 hours after we send your download instructions.



- Last Review: March 8, 2013
Order NetScanTools Pro v11 Installed Version Online Now (Download)
License Purchase Options - Download Delivery
Product (new licenses, download only)
License Quantity
Price (USD)
Reseller
NetScanTools Pro 11
1
$249
NetScanTools Pro 11
1
$249
NetScanTools Pro 11 bundled with Managed Switch Port Mapping Tool
1 license of each program
$348
(bundle means pricing discount only)
NetScanTools Pro 11
3
$710
NetScanTools Pro 11
5
$1,155
Your download instructions will be sent directly from us (NWPS) during our business hours. The download instructions do not come from the reseller. You cannot order a CDROM or the USB version through these resellers. BUNDLE ONLY: The Managed Switch Port Mapping Tool unlock code comes from NWPS. This bundle includes the discount for NetScanTools Pro owners.
The Fine Print
Price is varies with license quantity. Sales tax or VAT may be added as required. This is a Download of the Installed Version. If you want to order a CDROM or the USB Version or you need to order by PO/Fax please contact us directly.
Online orders are sold by an authorized reseller of our products. Your credit card will show a charge from the reseller and your receipt will come by email from the reseller.
Orders with free email addresses are not accepted.
Upon completion of your order through our reseller, we (NWPS) will process your order and send download instructions during our normal business hours (8am-4pm Mon-Fri, Los Angeles time) - note this process is not instantaneous. We make every effort to get the download instructions to you as quickly as possible.
If you DO NOT receive a your download instructions during the business day following your order, please check your SPAM filter quarantine folder for email from netscantools.com, please contact us.
NetScanTools Pro is designed for Windows 7/Vista/2003/XP only, 32 or 64 bit. It is a 32 bit program.
Registration is required after program installation. You get 15 uses in unregistered mode. Registration FAQs are here.
Return and Exchange Policy - see right sidebar.
Other Ways to Buy Our Products


NetScanTools Pro CD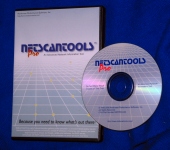 When you order NetScanTools Pro on CDROM you receive the CD and a soft plastic case. To order the CD, please contact us or one of our resellers.
Return and Exchange Policy



Our policy is here. Summary: if you purchase and download, your purchase is non-refundable. You may request a demo here prior to purchase if you are not sure of the product.