Warning:
NEVER scan a computer you do not own or have the owner's permission to scan.



- Last Review: May 4, 2016
Home > NetScanTools Pro > Technical Details > Whois Tool
Whois Tool Description - Lookup the Ownership of Domain Names, IPv4 or IPv6 Addresses and ASNs
The Whois Tool is a client utility that communicates with WHOIS database servers located around the world to obtain domain registration and IPv4 or IPv6 address assignment information and also ASN (autonomous system numbers) ownership. The Whois tool automatically selects the correct whois server using a technique we first introduced in NetScanTools 3.1 in 1998.

Types of information often received from whois/rwhois servers include: names, mailing addresses, telephone/fax numbers and email addresses of registrant (owners), administrative and technical contacts. Information quality and quantity varies depending on the whois registrar.

Use Whois and rwhois to get contact information of the responsible parties for IPv4 or IPv6 addresses and domain names.
Whois Client Tool Capabilities: Domains, IPv4, IPv6 and ASN
Support for over 100 domain extensions and automatically follows referral whois queries for .com/.net domains.
Supports IPv4 address queries for all IPv4 addresses and automatically selects the appropriate whois server. The tool can optionally resolve the IP address to find the domain name associated with that address, then it can do a whois query on that domain for additional information.
Supports IPv6 global address queries and ASN queries.
IPv4 and IPv6 hostname to IP resolution is done for domains and www. + domain name.
rwhois is also fully supported. Our rwhois client follows each referral server as they are found.
Manual whois query mode is supported where you enter the whois server to use.
IP to Country Mapping is displayed for an IPv4 address resolved from the domain name or entered as an IPv4 address query.
Abuse.net email contact information is displayed for all domains entered or resolved from an IPv4 address query.
SPF (Sender Policy Framework) records are retrieved for all domains entered or resolved from an IPv4 address query.
Bulk (Batch) whois queries are supported. You can create or import lists of domains and IP addresses to feed to the whois query engine (screenshot of editor is below). Note: if you do too many whois queries to a single server in a time period defined by the server management, your IP address may be temporarily or even permanently blacklisted. Please follow the whois server access rules as defined by each whois server manager.
Screenshots - IPv4 query results (more images are below)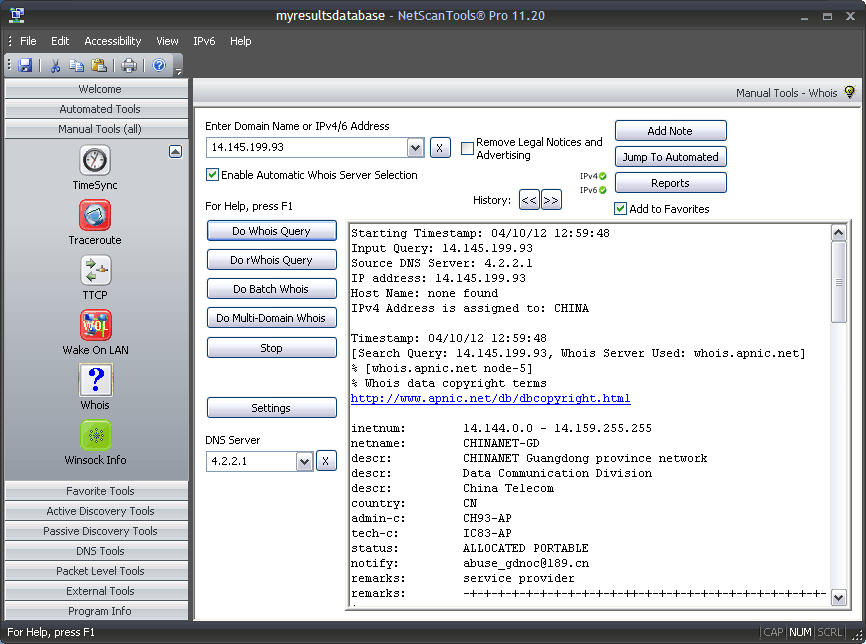 Screenshots - domain query results...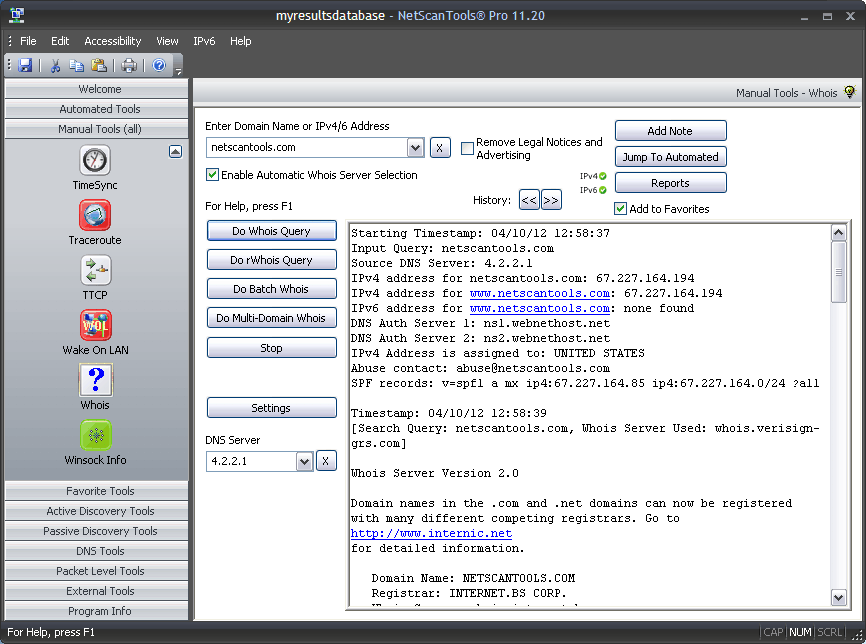 Screenshot of Multi-Domain Whois Selector