About the ARP Ping Tool
The ARP Ping Tool gives you a way to 'Ping' a MAC address on your LAN using ARP packets. This tool is functionally equivalent to the arping open source command line utility.
Why use ARP? Simple - IPv4 devices must respond to ARP packets even if the targeted device uses firewalls or other stealthy methods to hide from ICMP or UDP packet based ping tools like our Ping - Enhanced Tool and Ping Scanner (NetScanner). ARP operates at OSI Layer 2 which is lower level than ICMP or UDP which operate at layer 3.
Since ARP is a non-routable protocol, the device must be on your LAN (local subnet or network segment) and you must know the IPv4 address of the device.
Just like regular Ping, this tool shows the latency timing of ARP responses from the device and unlike regular Ping, it can also tell you if more than one device is sharing the same IP address.
Related Tools
Explore NetScanTools >>
See tool videos >>
Download a free demo >>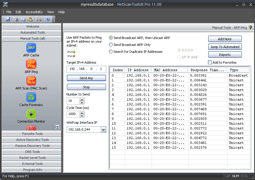 Version 11 ARP Ping Tool Slideshow
Important Notes:
ARP packets are not routable (the packets will not go beyond your router), so this tool is limited to target IPv4 addresses on the same network segment or subnet as your computer is currently on.

The ARP Protocol requires you to know the IPv4 address of the target. You cannot 'ping' a MAC address and get an IP address back in return -- the ARP protocol does not work that way.